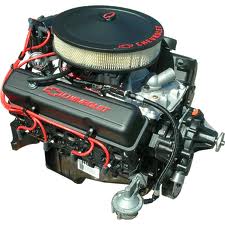 To most Chevy owners, the 350 engine is like the Super Bowl trophy in Football. It is the most praised and sought after engine that GM has sold to the public in the past 25 years. This engine has been used, swapped and beefed up in quite possibly more cars and trucks than any other automaker in the world. True Chevrolet brilliance went into designing this small-block Chevy engine. The '67 Camaro, Nova, El Camino, Corvette and many other modern cars have been graced by the performance of the 350 Chevy engine. This 5.7L powerhouse is known all around the world for two things. These things are performance and longevity.
You are probably familiar with the 350 or you wouldn't be here. What you want to know from us is how much are our engines for sale. Because we have confidentiality agreements with our distributors, we are not allowed to put our low price online. We make it easy for you to obtain our low price through an engine quote. We can tell you that you will never see a published price online that is lower than our 350 Chevy engine. One thing that makes us different is that we buy multiple quantities of used Chevy engines to help lower the cost that you pay.
Low Price and a Chevy 350 Warranty with No Catch
We explained our low pricing. Now we'll tell you about what we feel is the best warranty you will ever receive. All parts that are added to our used engines come with the standard manufacturer warranty. Most parts have a 3-year warranty against breakage or other wear and tear that enables them useless. Since we check out every engine, make sure it is clean and ready for sale, we are able to offer the warranty for the work we provide. You won't find a better deal or company to work with for your used engines. Our company was built on great prices, great service and a massive inventory.
Shipping engines is never a problem for us. We have a professional team of associates that ship out engines daily to every corner of the world. Every freight company that we work with gives us excellent service in the handling of our engines. We do not receive complaints from our customers when engines are delivered. Most of the phone calls that we receive upon delivery of an engine are to thank us for such a great deal. We work hard to serve your engine needs regardless if your are a business or individual. Our 350 Chevy engines are delivered on time and safely.
Get Immediate 350 Chevy Engine Quotes
Call us today at 888-284-3591 and discover why we are so popular as an engine seller online. Your price is quoted immediately when you call. You can receive a 350 engine quote online too. Just complete our Chevrolet engine quote form and we'll email you our low price plus any shipping charges. Review the quote and call us to place your order. You won't have to look around on Google for the next week comparing prices. We give the low price you want directly to you.