Used 5.3L GM Engines for Sale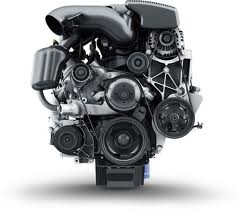 The Generation III V8 engines by General Motors have been a success after implementation at the turn of the 21st century. These Vortec engines are beloved by SUV and truck owners worldwide and the popularity shows now signs of slowing down. These high output engines are manufactured in several different engines plants, but all have the same goals of putting reliable power and performance inside for every driver. We buy used GM engines in bulk to save our customers money. We buy factory pullouts of used 5.3L GM Engines for sale and our engine experts check them out to be sure they are absolutely flawless.
The Vortec V8 is made in several engine displacements. Although we carry other Vortec engines, one of our specialties is the Chevy 5.3 liter. This engine is unique because it fits into the Trailblazer, Envoy, Buick Rainer and some Isuzu models. The Trailblazer is the model that many of our customers own or purchase our engines to install into. For over 7 glorious years, the Trailblazer dominated the SUV market and outsold many of the GM line of trucks. Everyone from average people to families purchased the Chevy Trailblazer as an alternative to the Ford Explorer or Cadillac Escalade.
Used 5.3L GM Engines for Sale with a Full Warranty
We know the used engines that are sold on eBay and Craigslist. We actually avoid these engines and so do many of our customers that know better. There is a huge difference in a used engine in great condition and one that is in poor condition. Every one of our low mileage 5.3 liter used engines are checked out and serviced by our experienced engine mechanics. We visually inspect these engines to make sure there are no problems that go undetected. We also perform dyno testing to help spot combustion problems, fuel leaks, gasket leaks and other issues that might prevent a long engine life in your vehicle.
Our 36-month warranty is truly a steal apart from our low prices. You will not find a better warranty for a GM engine that looks and performs as good as ours. We know engines and they are our passion. We are not just in the engine business to move engines. We actually care about what we sell and want our customers to be totally happy. The hard work that we do pays off for us with repeat business that has made us the most respected engine dealer on the Internet today. Our used 5.3L Vortec engines are top notch and bought by average people, mechanics and salvage yards because they need a great engine for a really cheap price.
Fast Quote for Our Used 5.3 Liter GM Engines for Sale
Grab your phone and dial this toll free number 888-284-3591 . Our helpful staff will not keep you waiting and give you your price quote quickly. Our inventory system is updated automatically as we sell engines and we always give you the correct stock levels and price. Complete our GM quote form if you prefer to get your quote by email.