Used Acura Integra Engines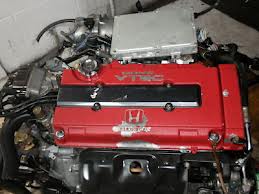 Acura Integra was produced by Honda between 1985 and 2006. The decade or more that this vehicle was in production was a profitable one for Honda. The no name cars that Honda was producing in the 1970s were now household names by the 1990s. The introduction of the Integra and the Civic are what helped to win Honda quality over with a U.S. audience. The Acura brand still remains the luxury mark of Honda. We happily sell the JDM engines that make customers happy. Getting great prices for used Acura Integra engines online is not difficult to do here.
The installation of the Honda B series motor is what helped put the Integra into a new class of vehicles. The best seller lists around the world listed the B series engine numerous times. All of this publicity about the Honda engines was nothing that Honda vehicle owners didn't know already. The 1.6 and 1.8 JDM engines that Honda produced strictly for the Civic and Integra are highly in demand. Everyone from street racers to average car owners seeks out these engines online. We're fortunate enough to be able to supply these engines for lower than standard pricing.
Used Acura Integra Engines 
There were some variants of the Integra known as a Honda. The different nameplates do not matter. The second and third generation engines are the two that most people doing engine swaps want. The ease of installing these engines is one reason that we have them imported here. Someone that is not a professional can drop these engines in without a lot of effort. The compact size of the JDM motors helps to expedite engine swaps and installations. The high red line limit that the Integra engine gives is just another example of fine Japanese craftsmanship. The power of the VTEC and non-VTEC engines made by Honda has not yet been matched by other manufacturers.
You might be wondering to yourself about a warranty. It's become a standard in in the used engine business to forget about warranties. Most of the sales that take place online away from our company website are done so without warranties. We still put a lot into customer service here. Not only do we give warranties, but we make sure that it offers a longer time period than what customers expect. Anyone can put a 30-day warranty on an engine that is bound to fail. Our exclusive and expert JDM engine testing is what ensures we sell the highest quality Integra motors for sale. Most of the time we can pickup the cost of shipping these engines out to customers in the U.S.
Used Acura Integra Engines Price Quotes
Our used Integra engine quote form you can find here on this page is very helpful. This form is used by thousands of customers each month. We built it just to help expedite our engine quotes. Try it out now to get our lowest JDM engine pricing. You can then call 888-284-3591. Let our used engine experts help you get the Honda engine you've searched for online.