Used Buick LeSabre Engines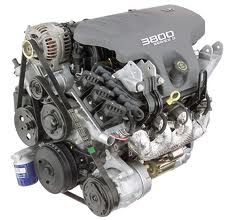 Buick LeSabre was a full-size car produced by General Motors for almost 50 years. The LeSabre was designed back when cars meant something to buyers. Name brand used to be everything and interior amenities meant little. General Motors built up the Buick brand with cars like the LeSabre. The public's faith in these full-size cars did not entirely cease in 2005 when GM discontinued this version. There are still millions of drivers using this vehicle on roadways everywhere in the world. Get the best used Buick LeSabre engines prices everyday from our used engines website right here online.
Buick used the famous V8 engine in the early editions of the LeSabre. This was the engine series used until the mid 1970s when the power was scaled back to a V6. These new V6 engines were still powerful but used less fuel to operate. The 3.8L engine stayed the course of the production run after this time up until the closure of the LeSabre brand in 2005. The 3.8L V6 easily produced a stock 175 horsepower of which more could be added by car owners. This is one reason why we sell this particular V6 GM engine on our used engines website.
Used Buick LeSabre Engines
There were multiple series of the V6 engine. Most of these are in stock at any given moment in our inventory. We understand the importance of supporting this engine series. There are a lot of Buick car mechanics and body shops in the United States. Having a source online to turn to can save money as well as hassle finding the right motor. We specialize in sales to consumers as well as business to business. Nothing gets in the way of pleasing each customer that comes to us with an engine need. We believe in Buick and will continue to offer all of the engines we can find in the series I, II or III. We bring in only the cleanest used engines our distributors can provide.
Warranties are always something to deal with when selling engines. Some dealers offer them and other dealers do not. We happen to be one that supports warranty coverage. Each engine that is in stock in our warehouse has different age and mileage. We consider all factors when including coverage for potential problems. Each engine is graded by our mechanics and then we use this grade to put forth coverage into our warranty contracts. No purchase here is without this minimum level of protection. The V6 Buick engines we sell are shipped around the U.S. and we've never had warranty problems from any of our customers.
Used Buick LeSabre Engines Pricing
Prices are only given out here through our quote system. You can use our online version or call us to find out the sale price. Our used engine quotes are delivered instantly. You choose the year of the engine you need and sit back and review our lowest price. Call our team at 888-284-3591 to get a quote by phone. Each way is fast and gives you everything you need from us.