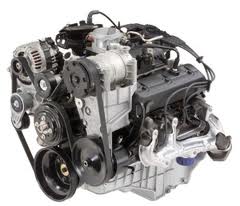 Chevy 4.3 engine provides its owners with a lot of reliability. If you own this motor, you know exactly what it can do. If you're upgrading it, you'll be surprised at what you'll get. We sell used engines here. This means that our Chevy 4.3 engine is in preowned condition. The first instance of this Vortec 4300 motor came in the late 1980s. Chevy started producing V6 engines for use in many different vehicles. The 4.3 is just one example of one that was widely popular. Browsing the online inventory here at https://www.usedengines.co will put you one step closer to owning a V6 engine.
The 4300 series is one example of an engine that lasted a minimum of 20 years in production. Engines come and go in the domestic market and some stay around for a long time. A lot of these are General Motors produced. Getting a replacement motor doesn't have to be an issue on this website. We tell you a little about the history, show you a great price and let you decide what you want to do. This means no hassles or other scenarios that can frequently happen with other online engine companies.
Chevy 4.3 Engine Specs
The cast iron heads of this V6 engine make sure that it is shielded from wear and tear. The horsepower range starts at 200 hp and can go up from there depending on the engine code that you need. The Savana, Blazer, Jimmy, Silverado or Bravada series all accept a version of the 4.3 motor. What we do is help you understand the specs that you're supposed to get before you place an order. We work extremely hard on accuracy here. It's too easy to put up stock descriptions. We personally research the information that is presented through our website. This helps you become educated and displays our level of customer loyalty.
Searching for a used motor on the Internet doesn't have to be scary. We provide customers with a range of informational sources on the website. We allow anyone to call us up by phone and ask questions on any engine in stock. We develop relationships much easier that way and it lets others know we're real people. We're not an auction listing or a classified ad. We sell real motors that are obtained through professional resources. The specs are correct in what is sold here and we're proud to be one of the biggest preowned sellers online. Engine warranties are just as important to our company as they are to each customer. We know that low mileage and reliability are two things that are demanded. We deliver on both of these elements as well as a good warranty.
Chevy 4.3 Engine Online Quotes
Quotes online are something we feel we've developed better than most companies. The simple one-click quotations we off give you Chevrolet pricing fast. Try the form right now. If you don't get what you need, call us toll free and let our experienced staff give you immediate help. Our engine company is always ready to go the extra mile for you.