Chevy Cavalier 2.2L Engines for Sale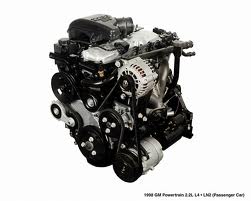 The Cavalier from Chevy has gone through several incarnations with engines, but it never lost sight of what drivers wanted. Power and performance are two words that go into every Chevrolet engine and the 2.2L is no exception. Up against rival automakers, the Cavalier outperformed many and was named the best-selling car several different times. You'll find used Chevy Cavalier 2.2L engines for sale at much lower than dealership prices. We sell engines around the world. Drivers, mechanics and junkyards benefit from the low price of our engines. Our customers know they always get high quality. Our reputation speaks for itself.
You might wonder what we include with our GM engines. You can rest assured knowing that our engines are complete. They are of course drained of fluid for shipment, but they arrive fast and ready for installation. We start by buying up used engines that have the lowest mileage for a Cavalier than we can find. It would do us no good to find and buy engines with high mileage. That will not solve an engine swap or replacement problem. We've already searched the country for you and found most high quality engines. Our 2.2-liter Chevrolet used engines for sale give you exactly what you expect.
Chevy Cavalier 2.2L Engines for Sale + Warranty
What you buy receives what we know to be the most lucrative warranty in the used engine business. Our Cavalier motors provide you with the warranty that you need to cover OEM part failures or other issues. Part of what you buy with the name Chevy is the legacy that is put into the most famous cars in the world. The same is true for our 2.2 engines for sale. Our engine mechanics check out and inspect hoses, headers, ignition systems and wiring to be 100 percent certain that each used engine is up to par with our quality standards. Let's be perfectly clear about what you get. You certainly aren't buying a rusty engine that should be scrapped.
Our team of freight specialists handle our engines with precision care. We have hired an expert team of internal staff members that know how to crate and wrap engines to eliminate the potential for damages during the shipment process. Our team of experts works closely with known trucking companies to ship our Chevy Cavalier 2.2L engines for sale out the same day as you order. You will not have to face long delays and wonder if your engine will arrive. We take pride in the speed and accuracy of our engine shipments and know you'll be happy with what you receive.
Low Priced Chevy Cavalier 2.2L Engines for Sale
We give you two great ways to receive our super low Chevy pricing. Use the quote form on this page or dial 888-284-3591 . You still get the same great price and expert service. We promptly give you answers to your questions and never make you wait on hold. Our trained engine staff treats our customers great. When you deal with www.usedengines.co for your engine needs, you never have to go through what some engine dealers online put you through. Make the switch and buy our engines today.