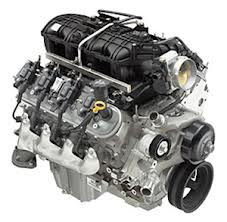 GM introduced the world to the cousin of the Yukon known as the Tahoe. This 1995 creation remains in production because of the engine power. You can find more than one displacement for sale here. If you came here to find a compatible V8, you're in the right place. Each preowned Chevy Tahoe engine for sale here is an OEM build. You're getting a lot for your money. Our network of automotive supply companies are able to provide superior pricing. You can stop lurking on eBay or Craigslist to find a better deals. Just use the quote form here.
The 4.1 straight six was the first and last installation of this motor in an SUV. The retirement of this engine helped to produce the 5.3 V8. This engine was used successfully in the Silverado series. The boost of power to the 5.7 helped the Tahoe to gain new ground for an combustion engine sport utility vehicle. The used units that are found inside our searchable database provide the GM value that cannot be found elsewhere. We're not an auction seller. We choose to provide engines that come from real companies providing real warranties.
Chevy Tahoe Engine Problems Solved
Is your engine locked up? Are you getting OBD-II codes you don't understand? We're here to help you solve your Chevrolet SUV engine issues. The motors that we provide are a lot cheaper than fixing one that is beyond repair. You know that once engines reach a certain mileage point that it's probably time to call it a day. Our low priced GM motors give the V8 power in both gasoline and diesel form that buyers request. Thousands of buyers can't be wrong each year who use our company to supply motors.
Do you offer engines with a warranty? Yes, we do. Our standard parts protection policies are usually 24 months. The length could vary depending on exterior issues or mileage that is on the block. The main thing is that you're getting a great price. The warranty is our bonus. Each V6, V8 or diesel Chevy Tahoe engine supplied here is a valuable commodity. You can install these yourself or use an ASE mechanic. Shipments here always benefit customers. We ship pretty fast. Our partner suppliers know that time is critical for installations.
Chevy Tahoe Engine Quotes Online
If you've never ordered here, our quote system is really simple to use. What we do is make it easy to get multiple prices. This ensures that you always get a low price. We've done the hard stuff. Submitting your V8 Tahoe engine quote request here gets you an assortment of prices. You can use these to order or just compare what you've found online. The chances of getting the best price is really high here. You have nothing to lose. Get your SUV engine quote right now.