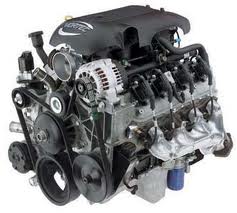 Chevy launched its line of Vortec engines in the 1980s. The technology that helped to boost demand for these engines is still in use today. This engine series has gone through various changes to find the right balance of power as well as fuel efficiency. Some of the popular versions include the 4300, 4200, 5300 and 5700 Vortec engines. What you can find in our massive preowned motors inventory is a Chevy Vortec engine that is right for your vehicle or installation. Our online inventory at https://www.usedengines.co provides the majority of classic and late model editions.
The small-block Chevrolet design was never lost in the creation of the Vortec motors. The dominance of this engine helped to provide years of sales success for the Safari, S10 Blazer, GMC series and many pickup trucks in the lineup. Finding a used condition engine from a secondary market seller with low mileage can be a nightmare. Spend some time searching online and you'll come across various levels of quality. The difference between what is found here and other websites is too great to list. What we provide is a perfect replacement for a used engine that provides the reliability this expected.
Chevy Vortec Engine OEM Specs
We know the different engine codes that are required by customers. What we do during a phone call is we take some basic information. We use this information to match the OEM requirements that customers need. Not all variants will fit into the newer edition vehicles. To help save time and erase installation issues, we provide the most updated data about the engine specs to each customer. We could easily just reprint the stock data that General Motors provides online like other sellers. We refuse to contribute to mistakes in the purchase process.
The good thing about visiting our company website is that you get to learn about our inventory. We describe all that we sell accurately. When you buy preowned online, you could get a lot of differences in quality. We've already established our company and inventory reputation online. We're the number one source for many dealerships, auto mechanics, warranty companies and others that buy used. Warranties are one of the many differences that you'll notice here. We don't charge extra for coverage. We don't make you pay for the additional assurance. A motor bought online here is backed by its term warranty upon purchase. Since we've already evaluated the Vortec engine conditions, we know they are ready to last for an extended time period.
Chevy Vortec Engine Quotes Online
It is the final selling price that usually hooks a customer into a company to complete a purchase. We understand the price versus quality ratio. We've already lowered pricing below the MSRP. We monitor the trends in the industry and always try to give the lowest pricing. You can sample pricing using our quote system online. You can also call us toll free. These two options will get you the same result here. This result is our low used engine prices.