Chrysler 300 2.7L Used Engines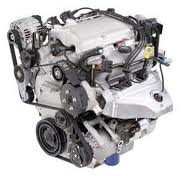 Chrysler 300 uses the same engine that many famous Chrysler vehicles use. The confidence that Chrysler has put into its 2.7L engine is very clear. The Stratus, Intrepid, Avenger and Magnum are right alongside the Chrysler 300 using the 2.7-liter. This engine was produced in the mid 1980s and is still one of the most in-demand engines for sedans and passenger cars. Our Chrysler 300 2.7L used engines are purchased directly from dealerships and other engine sellers that give us a great deal. We take these savings and reduce the price of our engines for sale. You can search elsewhere online or you can search here in our inventory for the best savings.
It is hard to confirm just what is happening inside of a used engine. You can find a lot of fancy photos put on a website by some dealers, but you never really find out what you get until an engine arrives. If you are a savvy Internet consumer, you already know that there are automotive forums and Google searches that you can do that will inform you to stay away from certain companies. We are proud to state that we are not included in a negative way anyplace online because we do the job that you pay us to do. We sell great 2.7L Chrysler engines for an even better price.
Chrysler 300 2.7L Used Engines Dyno Tested
You might not have encountered the phrase dyno testing before. The reason why is because many dealers don't have the funds required to invest into this computer evaluation. We have made the investment in dyno testing to single out engines that are 100 percent genuine. Don't forget that we buy engines from sellers too. We can take anyone's word, but we are still cautious about the actual condition that we receive. Not everyone is a great judge or can evaluate an engine based on the proposed mileage or physical characteristics. It is our 2.7L dyno tested engines that are proven to be excellent condition and this is what ends up at your door.
We evaluate the condition and prove the idle before we ship engines to any customer. We eliminate a hassle or problematic scenario that can be common after installation with some sellers. Our low price is just part of what attracts people around the world to buy our engines. We have an expertly trained team of customer associates that stop at nothing to do everything in their power to help every customer. Our engine buyers and our freight team are specialists too. We believe in honest and building customer relationships. Anytime that you need a used engine, you know now know where to get it from.
Chrysler 300 2.7L Used Engines Pricing
You found us online because you were searching for a cheap engine. We will not let you down here at www.usedengines.co. Use our Chrysler 300 form on this page and in return you get our lowest pricing. We are not trying to sell you something. You get a quote and nothing more. We know you might not even be the person that will eventually buy the engine. That's OK. You can speak with our experts by phone at 888-284-3591  as well. Give it a try.