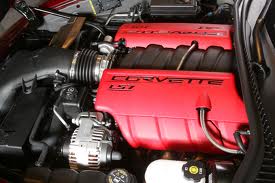 Classic and Late Model Used Corvette Engines
The Corvette. The near 60-year love affair with this piece of automotive excellence is shared by people around the world. While average people are attracted the look of a Vette, drivers know that the classic small-block engine is a stroke of pure genius. The first edition of this engine appeared as a 4.3L V8 and was quickly expanded to 5.0L after Corvette owners found out what this engine could do on the road. We sell used Corvette engines at prices much lower than what you will find anywhere else online.
We know that you expect to buy a genuine engine for your Corvette and we deliver on our promise to you. Nothing beats the performance and horsepower that Chevy engines provide. We search the country for the best deals on rebuilt engines and use our buying power to fill up our inventory with low mileage used corvette engines. We are concerned with quality and professionalism and it shows in the way that we do business. We have a staff of engine experts that put their education and talents to use inspecting and rebuilding every engine that we buy.
Used Corvette Engines with Our Satisfaction Guarantee
Our inventory of Chevrolet engines includes the 327, 283 and 350 Corvette V8 engines. We also offer the high performance 302, 305 and the newer 400. Buying used Corvette engines from our inventory will not give you unexpected surprises when an engine arrives at your door. We tell you everything that you want to know before you even think about completing your purchase. Every engine is meticulously cleaned and rebuilt then tested by our engine experts. This guarantees that you will have no hidden damage or problems that lead to engine failure.
Every part that we have to replace on the used Corvette engines we buy is an original part not a cheap aftermarket replacement. We know many salvage yards, scrap dealers and third party sources pull this trick on you and we refuse to do it. We earn customers by selling high quality used Corvette engines for heavily discounted prices. Our extended parts warranty is included free with our engines. Complete our quote form to get started or call us toll free at 888-284-3591 . We appreciate your questions or comments and will give you the lowest price plus safe shipment to your door.