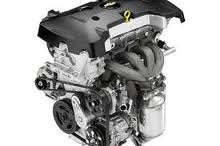 Dodge Aries arrived in 1981 and earned a decade of sales figures to prove its success to the world. Both the Aries and Reliant were mid-size passenger cars that were marketed to individuals and to families that wanted more legroom. The standard 4-cylinder engine was great for fuel mileage on city and suburban streets and sales soured for the Aries. The secret behind its success was the 2.2L and 2.5L engines that were placed inside. We have these Dodge Aries used engines right now waiting to be shipped. Get the lowest used Dodge engine prices here at www.usedengines.co and stop paying too much online.
The Dodge and Plymouth vehicles created in the '80s set the pace for the revival of Chrysler Motor Company. The problems with bankruptcy in this decade were reversed with Aries sales and other vehicle sales under the Plymouth name. Cars that were later introduced in the 1990s included the Neon and Sundance that carried on the tradition set by the Reliant and Aries. The used engines for sale that we have are not cheap reproductions. There is a lot of that stuff going around on the preowned engines market. Engines from our company are nothing less than OEM.
Dodge Aries Used Engines with a Warranty
If you think warranties are not often sold with used engines, you have obviously been shopping in the wrong places online. We do not run and hide after a customer makes a purchase. We remain in total confidence because we don't have to file any claims for warranties here. A Dodge engine from our company almost always qualifies for extension of the original warranty. No matter how many miles get on an engine, something can go wrong with a brand new engine and render it useless too. No engine is totally immune from a certain defect or part failure inside. We understand how engines work and that's why we go beyond the places that average dealers go to give customer satisfaction.
We notice the small things that make the largest difference. Things like free shipping to customers in the U.S. or expert customer service make a big impact. We do not experiment with policies that we know are not going to produce results. We work hard daily to operate our company the way that an engine company should be managed. We invested in our huge warehouse that holds millions of dollars of engine inventory. We hired the best customer service and freight staff money can buy. Getting 2.2L and 2.5L Aries engines out of our warehouse would not happen without these trained professionals working hard every day.
Dodge Aries Used Engines Price Quotes
The form that you see on this page is our engine quotation form linked to our warehouse. This form is the epicenter to our company and will tell you how much our price is and exactly how to complete an engine order. We appreciate this technology and created the form to do what our customer service experts do over the phone. You can call and get a quote right now. Let us get the Dodge Aries engine you want for the low online price you did not expect today.