Used Dodge Avenger Engines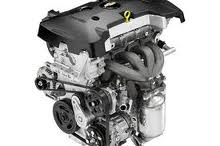 Dodge Avenger was created by Chrysler in 1995 to go up against its Neon. Dodge had its line of economy cars but no sports sedans. The Avenger came along right at the tail end of the Mitsubishi-Chrysler company known as Diamond Star. Like the Neon did before it, the Avenger made use of the 4-cylinder 2.0L engine as the base model. The partnership with Mitsubishi laid the groundwork for the Avenger to have a 2.5L turbocharged engine. We have all of the versions of these used Dodge Avenger enginesin stock and ready for free shipment to your U.S. location.
Chrysler retired the Avenger in 2000 although it came back for the late 2007 year. It was rebranded with a total of 3 new V6 engines. It was clear to Chrysler what type of engines the owners of the Avenger were demanding. These changes are what helped to bring this vehicle back to life. The near 200 horsepower is now standard for the base series engines. We are able to get our hands on these engines used. We do this using our professional relationships. There is nothing that we cannot find in stock from one of our distributors or wholesalers that provide our engines to us.
Used Dodge Avenger Engines
Buying Dodge engines from the Internet does not have to be frustrating for you. We put a lot into making our company something special. We feel that by working a little harder that all of our customers will have a much better buying experience here. Our daily commitment includes finding clean engines that we can purchase and resell. We are not selling rebuilt motors. The condition of a Dodge Avenger engine is important to us. We resell engines in the same condition they arrive. This makes it a challenge sometimes to always live up to our standards of high quality. Nothing gets in front of us or clouds our judgment when finding engines for sale for each customer that shops here.
We do some things like include free shipping, add our warranty and ship the engines out instantly after they are ordered. We know a lot of the little things we accomplish begin to add up to big things. It is the big things that most people remember. We know there is only a right way and a wrong way to do things. We avoid problems at all costs. It is the 4-cylinder and V6 Chrysler and Mitsubishi engines that help us put our name in front of thousands of people each year. We know we have only one chance to make a great first impression.
Used Dodge Avenger Engines Price Quotes
If it's an engine quote you want, you will have no issues getting one here quickly. We built the Avenger engine quote form just for sales on our website. This form helps reduce the amount of requests that are put on our sales staff each day. It is an accurate way to get online pricing 365 days a year. Call our staff after you have reviewed your quote at 888-284-3591. We can ship out your Dodge engine quickly.