Dodge Caliber 2.4L Used Engines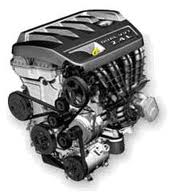 Dodge Caliber engines can be either 2.4L or 2.0L. We sell each of these Chrysler engines although we know the 2.4L is most popular. The Caliber is a new concept vehicle from Chrysler. Dodge used coupes and compact cars to dominate the 1990s and wanted something different for the 2000s. The hatchback design of the Caliber provides a sleek look without taking away from the drivability. When you want Dodge Caliber 2.4L used engines, now you know exactly where you can find them for a super cheap price. You can find any engine you need right here at www.usedengines.co.
If you don't know anything about our company yet, you are in for a lot of good surprises. Did you know that we have the largest Chrysler online inventory? Did you know that 50% of our business is to salvage, junkyard and warranty centers? Did you know that our pricing is among the lowest for a used engine online? There are many things you will find out when you become our customer that will assure you that you are dealing with experts. We are not in the business to sell engines. We offer engines and help support these engines for the entire time they are owned.
Dodge Caliber 2.4L Used Engines
Our used engines should not scare you. The word used to us means something of good value. The word used to others usually means a dirty engine that is sold for whatever they can get out of it. Those sellers can run a business however they like. We are engine professionals and what is sitting in our inventory deserves to be there. We are not desperate and take any deal that comes our way. There would be no way that we could sell to business clients if we sold the type of engines that you find on classified or auction websites. Companies expect a lot and we make sure we live up to the engine standards expected. Every 2.4L Dodge undergoes our evaluations and testing before they are crated and shipped out.
We test our used engines for sale to be certain that no deterioration is present. Hoses crack, fluid leaks and the idle slips over time. What we do is go over each of these areas by using manual and computerized tests. The data is compared and there is no way that a problem will not be located. We find very few problems, but when we do they are fixed instantly by our staff of Chrysler experts. Engines are cleaned and shined using our quality cleansers and sprays that remove corrosion. This spray also prevents dry rot and other issues that are most common with used engines.
Dodge Caliber 2.4L Used Engines Pricing
Finding out our 4-cylinder 2.4L engine pricing is easy. We outsourced a company to create our Dodge Caliber quote form used on this website. All you have to do is give the information that it requests and a low price is generated. It could not be easier for someone to use. We even take toll free calls at 888-284-3591 . We're available to help you and answer all Dodge engine questions.