Dodge Daytona Engines for Sale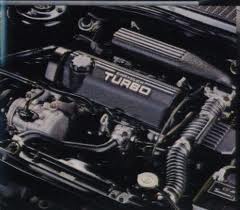 The Dodge Daytona and the 2.5L engine went together perfectly. The original concept car, the Dodge Laser, had dismal sales and Chrysler rebranded it the Daytona. Drivers wanted more power in this sporty passenger car and Dodge listened. We know the demand for 1996 to 1993 Daytona inline 4-cylinder engines. We have these Dodge Daytona engines for sale in our warehouse right now. We are considered the largest used Dodge engines dealer in America. We sell thousands of excellent quality engines each year and you will not find a cheaper price on the Internet. You call we listen. You ask we deliver. It's that simple for us.
One of the things about a Daytona is that it is now a classic automobile. These 20+ year cars are now relics in the eyes of the public although many people still use them daily. Dodge knows how to build excellent cars and the quality of their engines are unrivaled. This is part of the reason that we specialize in Chrysler engines to fill up our inventory. Our 2.5L Dodge Daytona engines for sale are guaranteed to work great or we are not happy. We have already put the legwork into selecting a great engine for you to buy. You are rewarded with your purchase by a lot more than what any other engine dealer will give you.
Dyno Tested Dodge Daytona Engines for Sale
This testing is one of the things that makes us stand ahead of the pack in the used engines world. We have low prices, but we refuse to give out low quality to achieve that price. What we sell are Daytona engines with lower miles than what you will find on most Dodge cars in running condition. We dyno test all of our motors inside of our 21st century engine shop. Nothing gets by our testing and we verify all of the details that are necessary when selling a used engine. We can tell you anything you want about our oil compression, valves, gaskets or horsepower but it means nothing without a test. We test to make you happy.
Each motor goes through the very same testing and elimination ritual. Our strong reputation and quality commitment will not let us pass an engine to our customers that is not the highest quality that we can give. We carry this excellence over to our shipping department. Although we crate every engine, we load hundreds of Dodge engines at a time for direct shipment. Because we ship around the world, we are able to get the lowest price to move an engine from city to city. We do not raise the cost of your shipment just to make some extra money. Our money comes from the quality of the Dodge Daytona engines that we sell.
Dodge Daytona Engines for Sale Price Quotes
888-284-3591 will connect you with our quotation department. Call us. We answer. You get a price. You decide to buy. That's how easy our process is when you buy an engine from our warehouse. If you want your quote online, just put in your Dodge Daytona engine details and submit your quote fast. It is very easy and hassle-free to get a quote and to order from www.usedengines.co.