Dodge Dynasty 3.3L Used Engines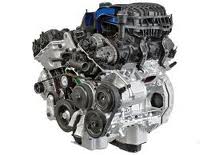 Dodge Dynasty uses the 3.3L V6 engines just like many of the Chrysler produced luxury and passengers cars. Much of the '90s was ruled by Dodge and its reliance on the 3.3L engine for cars that needed a little extra horsepower. The Dynasty might have only lasted for 5 production years, but the 3.3L engine continues to live on in Dodge's inventory. Just like Dodge, we have Dodge Dynasty 3.3L used engines right in our warehouse. We offer these engines at a low price. We can figure out why you came to our website. What you don't know yet is how great our engines really are and how much less you'll pay. Keep reading.
When you desperately need to find a used engine, the first thing that you must understand is that used can mean several different things. We've witnessed engines that were labeled as used sold online and these should have been described as abused. Customer service and our reputation mean the world to us. Engines in our inventory that bare our name and Dodge are all evaluated and tested before they are catalogued for sale. Since we know the companies that sell us engines, we don't have to spend time worrying if we made the right decision. The same is true for our customers. No worries. Just great 3.3L engines for sale.
Expert Tested Dodge Dynasty 3.3L Used Engines 
We like our mechanics. We like them a lot. We pay them well and they do a hard but thorough job. Our love for our mechanics does not mean that we go strictly by their opinion when engines are evaluated. It is hard to beat our dyno testing because that is where the problems can be found.  You can't compare percentages unless you use this computer testing. You can't spot a leak inside just by looking at a hose or gasket. Our computer testing is expensive but worth every penny. All of our 3.3L Dodge engines go through this invaluable testing before we ship engines to customers.
You know how we test. You know our quality. You even know that we are a popular source for used engines. The only thing left for us to give to you is our pricing. We do that by using a quote form and a dedicated staff of employees. Their sole responsibility is to process quotes as quickly as possible as they come into our company. We achieve this by online and phone quotes. Our trained staff is the lifeblood of our company and no engines would ever arrive or depart if not for these experts. We pay them well to do a great job and we have never had any complaints from customers about the way they are treated. That says a lot.
Dodge Dynasty 3.3L Used Engines Pricing 
Here at www.usedengines.co, our price quotes are delivered right on this page. This means no waiting and wondering if someone has received your request. You click submit and we go instantly to work for you. If you want to get your 3.3L engine price over the phone, just call 888-284-3591 and you'll get it. That's super easy!