Used Used Ford 6.6L Engines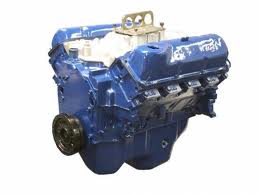 The Ford 400 is the internal code name for the 6.6L engine. Many of the late 70s and early 80s vehicles used this big-block V8 Ford engine before later developments out reigned its use. This includes some E series Ford vans, trucks and Broncos made during 1975 to 1982. This reliable engine is perfect for swapping out an engine in these  models or replacing one that has seen better days. You will find in our inventory these used Ford 6.6L engines at a price that is hard to believe. We buy low and sell just as low. We don't raise the price because we have something that no one else has in stock. We want you to buy our engines.
Trying to find an engine from a regular parts dealer is not only frustrating it can usually be a waste of time. While local retail parts centers are great for small things, engines like the 6.6 are not found easily. We sell to junkyards and some of them have these engines in stock, but we have no control over their prices. Most of our business comes from average drivers, mechanics and junkyards that want to take advantage of our low E, F and Bronco series engine prices. We treat everyone fairly and most of our business is sales to repeat customers.
Low Prices, Huge Inventory and it Gets Even Better for You
How would you like a nice 36-month warranty to go with our Ford 400 engines? That's right. We give you our guarantee for 3 full years from the date of your purchase. If something happens to go wrong due to parts or labor, we'll take care of the problem for you. These are used engines, but they are in near perfect shape and unlike what is sold at online auctions. You know the company you are buying from and we make it easy to contact us. If you have an issue, we want to be the first to hear about it. You don't have to complain online. Call us. We'll take care of any problem fast.
You should have no trouble putting these used Ford 6.6L engines into an Econoline van, Ford truck or Ford Bronco. We do not alter the engine block in any way during the acquisition and review process. We do visually and manually inspect each engine to make sure any work that we have done is up to par with Ford OEM specs. We test the oil pressure, check for leaks and make sure that you will not have any issues with our low mileage Ford engines. We are not in the remanufacturing business. We sell Ford used engines and many of our customers are surprised that we have not rebuilt their engine before shipment. Our engines are that pristine.
Get a Fast Used Ford 6.6L Engines Quote
Give us a call toll free at 888-284-3591 and you can speak to our engine specialists. What you get is our low price as soon as you call. You don't have to worry about being pressured into buying something. Check us out. That's how many of our customers find out about us. They call. We answer. Get your quote by email by inputting your information into the quote form on this page. You won't regret either contact method.