Used Used Ford Excursion Engines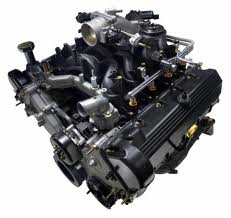 Ford Excursion rose to fame starting in 2000 when Ford introduced it as a full-size SUV. As a competitor to the Suburban and Yukon, the Excursion was an immediate hit with SUV buyers. The sheer size and the luxury amenities included in this vehicle was enough to win buyers over. What was under the hood put the features over the top for many buyers. The 5.4L V8 and 6.8L V10 were two of the engines used. You'll find these used Ford Excursion engines for really low prices here in our inventory. We know how to sell quality engines for a cheaper price.
The Triton engine base was something developed in the mid 1990s. Ford was transitioning away from its Modular engine design and needed a bigger engine. Sales of pickup trucks and SUVs started to dominate the sales numbers for Ford. The Triton V8 and V10 technologies were brought forth for buyers to sample. The production of these engines was so great that they are still easy for us to obtain. You don't have to worry about trying to find a new engine when we can offer used Triton engines from Ford at a lower than standard price. We exist to help you find the engine you demand.
Used Ford Excursion Engines 
Ford did tryout diesel versions of the Excursion although these never sold as well. It is the 5.4L and 6.8L that you can find right now in our warehouse. The high horsepower of these engines is kept intact here. We don't make changes and you're not buying some rebuilt engines. What we sell are motors that are gently used and removed from actual Ford vehicles. These engines are always clean and always ready to be installed professionally. What makes our company different is the fact that we put a lot of extra time into the evaluation period before selling something to the public.
Getting caught up and buying the wrong engine can happen online. There are always sellers that are willing to offer a low price and then forget about customer service when the funds hit their account. We do individual and business-to-business sales. We handle both sides of the automotive engine business. Everyone gets the same pricing and we never inflate our price tags. We know what the selling price of a used Ford Triton engine should be. This is exactly what we offer here even though engines are sold for less than on other websites. Our warranty protection comes with each V8 or V10 engine we sell here. Customers come here protected and they leave here with an engine that is protected.
Used Ford Excursion Engines Price Quotes 
Our low price is waiting for you right now. All you need to do is make contact with us. You can use the used Ford engine quote form we built for online quotes or call by phone. You can call toll free at 888-284-3591. This is our quote line and you're patched right through to our engine specialists. See how low our prices are when you get your quote right now.