Used Used Ford F-150 Engines for Sale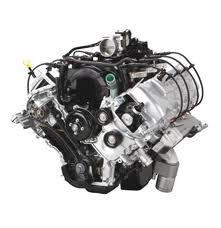 Ford truck engines for sale online are not impossible to find. Many dealers, scrap yards, junkyards and distributors are selling F-150 Ford engines. When it comes to the best deal, do you know where to buy? We sell used Ford F-150 engines for sale at prices so low that we cannot advertise them online. This helps to keep our inventory levels accurate. We hate when we buy something that is out of stock when a website says that it is really in stock. We refuse to do that to our customers. It only takes a couple seconds of your time to get an accurate F-150 engine price quote.
Rebuilt Ford 4.6L and 5.4L Engines
You do not have to panic if you have searched everywhere online for a 1997 4.6L engine. Not only do we have this engine in stock, we ship it out the same day to get it to you faster. Our F-150 engines for sale are either manual or automatic. Our award winning engine department rebuilds all our Windsor engines. Every engine that we buy is stripped back down to the block and we start over from scratch rebuilding it piece by piece until it is absolutely perfect. We work hard so that you get a clean engine that starts up after you bolt it down.
If you are searching for 5.4L F-Series engines, we have those engines rebuilt and ready for sale. Our 4×2 used engines are no different from what a Ford certified service center would put into your truck. The exception is that our price is much lower than what you would pay going elsewhere to buy. Our used Ford F-150 engines for sale are cheap, but do not sacrifice on performance or longevity under your hood. We never cut corners are put cheap parts on the block during our rebuild. It's OEM or not at all.
Satisfaction Guarantee Plus a Free 3-Year Warranty
We know that many engine dealers online leave you out to dry when you have a problem a month, six months or one-year after the sale. We take a completely different approach to customer service. Every one of our F-150 engines are packaged with a hassle-free 3-year warranty. We do not limit the mileage and do not question the issue that you are having. Our trained staff is easy to work with and is only a phone call away from assisting you with any question or problem that you have. We are here before the sale and after the sale to help you.
Get Our Used Ford F-150 Engines for Sale Shipped Today
We do not complicate the order, quote or shipping process. We know time is tight and schedules are limited. Fill out the price quote form to get our low price by email. When you finally get over how low our price is, call us toll free at 888-284-3591 and speak with our engine experts. We answer every one of your questions and ship your F-150 engine out to you the same day.