Used Ford F-150 Supercab Engines for Sale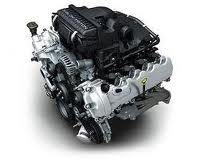 Over 11 generations of the F-150 have been produced since the early 1980s. These engines just get better and better and the buying public responds with increased Ford sales. The 4.2L appeared in the F-150 Supercab in 2004 as a standard option apart from the 5.4L. This Essex engine is one of the most preferred engines and the V6 power is more fuel efficient than its V8 counterpart. Our Ford F-150 Supercab engines for sale are used, but these engines are in the best shape that you will find on the Internet. The reason for this is that we buy Ford engines used from Ford dealerships and other suppliers around the country that we trust.
The Supercab has won several "Truck of the Year" awards and is a preferred option among Ford truck buyers. The Essex V6 that we have in stock is made to fit right in underneath the hood of any Supercab. No modifications are ever required when you purchase our Ford F-150 engines. They are easy to install yourself or if you have a trusted engine mechanic doing the work for you. We have evaluated the condition of our engines when they arrived. You never have to worry about hidden problems or issues happening before or after installation is completed. Every one of our F-150 Supercab engines for sale give you the low mileage you want and the price you can afford.
Dyno Tested Ford F-150 Supercab Engines for Sale  
What may seem like a simple inspection is actually done with our expert computer. Our dyno tests are the most accurate way that we have to test what we sell. Visual inspections serve a purpose in the engine world, but a computer can do so much more. Our Supercab Essex engines receive quality and condition reports that help us to determine how many miles are actually on these used engines and if there are any type of leaks of defects that we should know about. The testing that we do helps us to help you get the best engines that we can possibly give you online.
We get you the lowest price we can for used F-150 engines. We give you a warranty for no cost with your engine purchase. The last thing we do to complete the package deal is send out your 4.2L engine fast. We have a modern computer system that controls all of our shipments. Once an order is processed, it is sent directly to our shipping team and each engine is pulled from its warehouse location and sent out quickly. Eliminating the amount of paperwork required helps us to shave 2 or 3 days off the actual shipping time.
Ford F-150 Supercab Engines for Sale Quotes 
Get your absolutely free and super fast quote by calling 888-284-3591 right now. You will speak immediately with Ford engine specialists that know everything about the used engines that we sell. Go ahead and ask us anything you want. You get our price quote fast. Get your quote online by filling our our F-150 Supercab request form. Click send and it immediately goes to your email. It's very easy and stress-free to get a price quote from www.usedengines.co.