Used Ford Grand Marquis Used Engines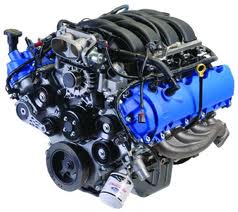 Grand Marquis was sold under the Mercury brand of Ford automobiles. Luxury has always meant something to Ford and it has always been displayed in the cars produced. The creation of the Grand Marquis had just one goal to accomplish. Ford knew that buyers would respond to a V8 engine that had a reputation for good fuel mileage and power. The Grand Marquis quickly achieved the top spot among the competitors in the sedan market. You can get Ford Grand Marquis used engines right now from our huge warehouse inventory. We sell low and still give the best quality here at www.usedengines.com.
The Romeo 4.6L V8 is what was used most often for the Grand Marquis. Other cars like the Town Car eventually started using this tried and true Ford Motor Company masterpiece. The modular engine was most commonly a 3 or 4-valve configuration.  The OHC design made it compatible with less than 20 different vehicles. Getting these engines used from an Internet retailer could be problematic unless they are buying from the same companies that we do. Putting a lot of effort into our inventory is one of the ways that we have built such a large offering of used engines for sale.
Ford Grand Marquis Used Engines
There is a later version of the V8 known as the 5.0L Coyote. This came to popularity inside of the Mustang although Ford made it available in sedans as well. There are some Marquis that have the 5.0. We make it easy to get this version too. You don't have to feel uncomfortable about buying engines that are in a used condition from the Internet. We are a reputable dealer and have already completed the process of inspection for the Ford engines we get in stock. Our staff of talented mechanics goes over each 4.6L engine with a quality checklist. We know from our own experience some of the areas to check first and that's what we do. When something gets an A-OK from our mechanics, it means that the engine is something that they would want to put into a vehicle they own.
We give the quality that most dealers won't give. It costs us more to locate higher quality engines. We go through a few days of inspections. We buy engines from our wholesalers in large shipments. We go above and beyond what other dealers do for customers  trying to get a good deal on the Internet. We have been selling Ford engines for many years. We know this company and know how great the engines are after installation. We don't make promises about used engines that are not kept. Our money back guarantee says a lot about our company.
Ford Grand Marquis Used Engines Quotes
A quote from us will change your life. If you've never had a real company help you before, you will be surprised at all that we offer to our customers here. The Grand Marquis engine quote form right on this page tells you everything you need to know. If you want personal assistance, you can call us right now and we will take all the required time to help you. We are very different from average sellers and we prove our differences daily.