Used Used Ford Super Duty Engines for Sale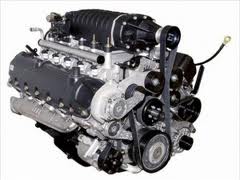 Ford conceived its Super Duty line of trucks in the early 1980s. Known then as the Heavy Duty brand, Ford slowly built its reputation for quality. The modern versions of the Super Duty trucks are known around the world for engine power and years of longevity. There are 3 main engines that Ford relies on to power their F-250, F-350 and F-450 series trucks. These are the 5.4L, 6.8L and 7.3L Powerstroke. These gasoline and diesel F-Series engines have set the benchmark for other automakers to follow although Ford continues its engine dominance well into the 21st century. You will find these used Ford Super Duty engines for sale in our warehouse ready to ship.
There are many places around the country where we buy up used Ford engines and then make them available for sale. Our buying patterns have us doing business directly with Ford dealerships, distributors and other engine sellers that we have built a reputation of trust with. Our main goal is to give every customer the performance and expected value that they want in our Ford engines. We accomplish this huge task by finding low mileage Super Duty engines and having them inspected inside of our engine shop. Nothing goes out of our doors without it being in 100 percent excellent condition for a used engine.
Expertly Tested Used Ford Super Duty Engines for Sale
We have some of the finest testing equipment that money can buy in the automotive industry. The tools and instruments that we use to calibrate and test our used engines are used everyday. The eyesight of our Ford mechanics only goes so far and we have to turn to computer testing to finish our certification process. Each of our F-Series engines are hooked up to our dyno computer and tested multiple times in different configurations. Our load testing, compression testing and seal testing ensure you will not have a problem during use. We are able to determine how much our 5.4, 6.8 and 7.3 engines can take while in your possession.
We even give you an extended warranty with your Ford purchase. We are out to be the number one seller of Super Duty engines on the Internet. We are not in this business to make a fast buck. We have been selling engines for many years and have met a lot of great people. The strength of our engine quality comes partly from the relationships that we create. Our success at selling engines is never overshadowed by our quality commitments and what we do for our customers. When buying from www.usedengines.co, we take your investment seriously and strive to make your engine buying experience the absolute best that it can be from our company.
Prices for Used Ford Super Duty Engines for Sale
Give us a call at 888-284-3591 and we'll lookup the price for our Super Duty engines. You will understand why we are one of the cheapest priced dealers online. We take all of the time that is necessary to help you. You don't have to call us to get a low F-Series price. Use our Super Duty quote form today and we'll get our price to you quickly. You don't have to pay MSRP. You deserve better.