Used Ford Taurus Engines for Sale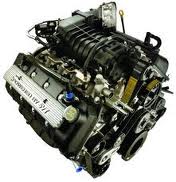 The Ford Taurus has been named the best-selling car in U.S. history. While these vehicles are popular for business or casual use, one thing that cannot be denied is the power of the engine. Our Ford Taurus engines for sale include every model of this famous vehicle's engine. The 2.5L started it all in 1985 when the Taurus was first introduced. By the time that Ford discontinued the Taurus the first time, the engine displacement was up to 3.5L. Ford Motor Company decided to revamp the Taurus and establish this vehicle with a new generation of drivers. We have the Taurus engine that you need for your Ford here at https://www.usedengines.co.
What makes our used engines different is a combination of things. The first is our natural selection process. We trust what our distributors sell to us and we have complete confidence in the engines that we are presented for purchase. The engines that we acquire are direct pullouts or overstock right from Ford dealerships. This gives us a leg up on the competition that only has access to scrap yard engines. Every Ford engine for sale that hits our warehouse shelves has been inspected with our 30-point evaluation process to ensure it is the highest quality.
Ford Taurus Engines for Sale with Warranty Protection
We know how to take care of our customers and one thing that we do not leave off is a warranty. You purchase our engines with the expectation that the engine will perform at its best during the time of your usage. We take this expectation to heart. We've already done the hard work selecting the very best motors that we can buy and inspected them for absolute quality. We throw in at no cost to you a 36-month warranty for every Taurus engine. You are protected, there are no mileage clauses or other fine print that stops you from getting the repair that you need. How's that sound? Great. Keep reading.
We have expedited shipping because we put our money into making long-term contracts with trucking companies. We use U.S. and Canadian companies that offer us a great price for the handling that we receive. Did you know that we hardly ever have a claim for damaged shipments? Because we take extra precautions, we can avoid many of the problems that smaller engine dealers face. We love Ford engines, have a great relationship with Ford and do whatever it takes to please our customers. You'll love our customer service and speed of shipment when you place your engine order.
Get Our Ford Taurus Engines for Sale Price Quote Now
Snag our low price right online by getting a quote in your email. Fill out our form and it instantly sends to you our low price. Do you prefer to talk to a real person? Great we do too. Call our toll free number right now at 888-284-3591 and we'll give you our used Ford engines price quote. Our price is so low that we get in trouble by Ford for printing it online. Give us a minute of your time and you'll get the lowest price possible for a great Ford Taurus engine.