GM Cadillac Fleetwood 5.7L Used Engines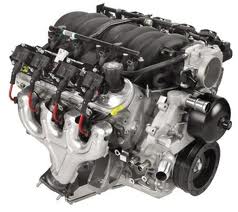 Cadillac Fleetwood was one of the first luxury cars ever produced by GM. The roots of this automobile can be traced back to the early 1900s. Cadillac has always been a vehicle known for its high quality and the Fleetwood continued with this tradition. The size of the Fleetwood required that it have a powerful V8 engine. GM used many different engines like the 4.1L and 4.6L before coming up with the more modern 5.7L engine. We have GM Cadillac Fleetwood 5.7L used engines ready for shipment to any destination in the world. Our quality, pricing and dependability make us one of the largest used engine sellers on the Internet today.
We specialize in selling General Motors engines in both V6 and V8 versions. When you need a used engine, your options can sometimes be limited at best. If you don't have a great source to buy, there is no telling what you will receive. We pride ourselves in selling to quality salvage yards and junkyards that deal with engines in great condition. We have customers all over the world that need a great replacement engine for a variety of reasons. We care about what gets put into the vehicles of each and every customer. We strive for 100 percent perfection and we achieve it.
OEM GM Cadillac Fleetwood 5.7L Used Engines
Engines that we purchase are already certified used quality. We still take them into our engine shop and evaluate the condition in person. We check for any type of damage that might not be visible to someone that is not an expert. We use a checklist that includes many of the trouble spots that can cause engines to fail or fail shortly after install. We use special cleaners and cleansers to remove any type of surface corrosion or rust that could prevent normal engine operation. What we are left with is an engine that looks similar to a new one regardless of its age. We make sure the parts are OEM and that no foreign or aftermarket auto parts have been added by a former owner.
Our testing equipment is one of our biggest investments and one of the reasons that our engines are higher quality that most. We are able to put each 5.7L engine through complex testing. Some of what we search for includes leakage, damage to hoses, idling problems and oil compression issues. These are all things that can be present in a used engine once it is installed and started. We eliminate these types of problems from the lives of our customers. We do a great job and know our customers deserve nothing less than GM's best.
GM Cadillac Fleetwood 5.7L Used Engines Pricing 
We are able to give every customer the lowest price because of our purchasing power for used engines here at www.usedengines.co. Use our Cadillac quote form and your price is instantly displayed to you. You'll save a bunch of money and you won't have to worry about searching elsewhere. You can also call toll free at 888-284-3591 and our helpful staff will give out our pricing on the phone. Stop wasting money and start saving it by buying a quality engine from a large dealer.