Used GMC Safari 4.3L Engines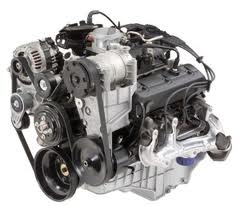 GMC Safari was created in 1987 as an exact replica of the Chevrolet Astro van. GM usually made two of the same vehicles for each side of the Chevy and GMC portions of the company. This is a tactic that worked then and it still works today. Consumers have the confidence in GMC engines because these engines are built very well. The 4.3L is the most popular Safari engine although a smaller I4 engine was first used. We have these used GMC Safari 4.3L engines on sale everyday in our warehouse. This means no more fighting to find the lowest online price for a used engine.
If you own the Safari, you know just what the engine can do on the road. If you are buying for a customer, you should know why this engine is in demand so much. The Vortec 4300 version of the 4.3L is rated at at least 200 horsepower. This means that it gives the power that is needed for hauling and daily travel. All of the GMC Safari vans came custom with trailer hitches. This was one of the selling points for customers that wanted a good hauling van. We have these engines and we can ship them out typically for free.
Used GMC Safari 4.3L Engines
A great engine is one of the reasons that our customers return again and again. The other part, we are sure, is from our customer service. We treat customers all the same. This means that you don't need to be from a business to get a discounted price. We sell to anyone that obtains a quote for each engine. We support all customers when the sale is made. Our clean and inspected engines are always sent out on the very same day the orders are competed. We are able to shave off a lot of transit time doing business this way. It is much appreciated by each customer that orders used engines from our company.
Our engines are a safe buy. We are honest with customers. If we felt our quality was low we'd say it. The used engine market online is already full of sellers that do not support what they sell. We choose the best distributors to send us used engines. We have found that by putting a lot of additional time into engine selection that it cuts out potential problems. We can safely say that our engines in our inventory deserve to be there. All of this is done for prices that cannot be beat. We know the MSRP pricing and we can tell you that we are nowhere near that.
Used GMC Safari 4.3L Engines Pricing
Engine quotes are simple for you to retrieve when you call our toll free number at 888-284-3591. We spend time with you. We happily help you understand more about our engine quality. We'll even tell you what you want to know about our company. You can also obtain your quote by doing it online. Use our used GMC Safari engine quote form now.