Used Isuzu Trooper Engines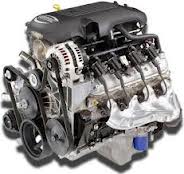 Isuzu Trooper was created in 1981 and exported around the world. This was one of the first SUVs that were brought into the U.S. automotive market. Many competitors based their original design from the body stylings and performance of the Trooper. The early versions of the Trooper included a 4-cylinder engine, but this was soon upgraded to the V6 version. Both a 3.2 and a 3.5 V6 engine were the most common in the Trooper. We have these used Isuzu Trooper engines for sale at probably the lowest price you can find. Let us get you what you need without spending days or weeks trying to get a lower price.
Isuzu makes quality vehicles. They are also known for making some of the most reliable engines. If you think about it, when was the last time you saw a broken down Isuzu on the road? The condition of a used engine that is sitting in our warehouse is always stellar. We go to great lengths to provide our customers with quality motors. This sometimes comes at our own expense. We have to wade through wholesalers and distributors to find the best quality. When you find what you need in our inventory, you know that you are getting the very best we can give.
Used Isuzu Trooper Engines
Since we do so much research, we know what the Isuzu Trooper engine specs should be for each one we find. We put engines into a series of internal tests. We are able to calibrate each engine and compare it to the data we get from Isuzu. Rest assured that something use from our company is clean and maintained. There are plenty of auction engines that wind up online. These are the engines that we avoid. Our wholesalers are experts and only send us motors that we can use for drivers and for body shop owners. Our internal mechanics do a great job at validating engines that show up here.
When it comes to pricing, the V6 engines we have are priced low to move quickly. We don't put high price tags on what we offer. If we do that, there is a good chance that someone that needs a great engine would never be able to afford it. We've found what works for our customers. Our Trooper engines for sale are packaged with a warranty. This warranty is thought of as one more piece of protection that we include. Engines are in great shape to begin with, but it is the assurance of a warranty that makes them extra special. You can be visiting us from a junkyard or even a salvage company. You should know we send out thousands of used engines to these industries annually.
Used Isuzu Trooper Engines Pricing 
All you need is a quote and you can own one of our Isuzu Trooper engines fast. Choose the year and engine that you want from our fast quote form. What happens next is you get our pricing. You can immediately call our team at 888-284-3591. Let us find you the V6 engine that will give you years of uninterrupted usage.