Plymouth Caravelle Used Engines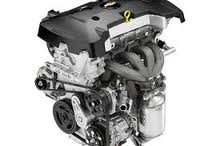 Plymouth Caravelle was a sedan introduced in the U.S. in 1985. It had previously done well for Chrysler in Canada where its base model replaced the Dodge Diplomat. Sales were strong and importing the car into the USA was a smart decision. The public instantly took hold of the Caravelle and it found its place amount the other sedans in the lineup. The Caravelle was eventually replaced with the newly created Acclaim although many 2.2 and 2.5 engines are still in production. It's easy to find these Plymouth Caravelle used engines for a price you can live with. Nothing here is overpriced and we are salvage and junkyard company lifesavers.
Plymouth used the 2.2 an 2.5 engines in a range of other cars during their production runs. Cars like the Horizon and the Sundance were hand picked to use this engine and it is likely the reason for their success. Used engines by far are not created equal. The way that one engine looks is not the way that another one performs. The only way to know exactly what you get before you buy it to trust the seller. We trust sellers. Thousands of engines shipped out of our warehouse have never been returned because of our trust in the sellers that offer us Plymouth engines to sell.
Plymouth Caravelle Used Engines
We use several methods here to determine what condition engines are in before they go back out the door. The first thing that is completed is an internal review by one of our Plymouth mechanics on staff. This professional is the one that will oversee the entire evaluation of the motor. The internal and external components are looked at to be sure nothing is wrong. You can always tell how well an engine has been cared for by looking for signs of deterioration. All notes are taken and the information is then compared with our distributor data. We always double check that the engine is correct, the displacement is right and we then ensure the mileage is right.
The 4-cylinder Caravelle engines that are moved in and out of our warehouse are always done so carefully. We invested in the proper storage facility and where the engines are housed is controlled for its climate. Anything that could potentially harm each engine waiting to be sent out is eliminated. The only thing we can do for customers is develop a level of trust. We get a lot of new customers each day that do a lot of used engine research online. What they find is no type of negative information written about our quality or our business. Being the leader in used engines for sale online does have its benefits and we use them to make our company great.
Plymouth Caravelle Used Engines Quote
A quote is super simple to get from us. You can call 888-284-3591 and speak with us but it's not required. The same work that our employees can do for you is done by the Caravelle quote form we provide. This form is what tells you about our low price, free shipping and extension of warranty coverage. Use it now and find out why we're the number one choice for used engine buyers on the Internet.