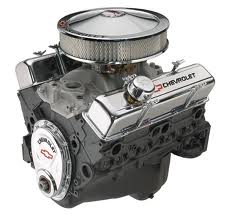 Few engine manufacturers come up with original technology when designing engines. Chevrolet has had some of the most groundbreaking firsts that have ever been achieved in automotive history. The small-block, Generation I, Generation II and Generation III engines have all been popularized in classic and late model Chevy vehicles. The Chevrolet 350 engine has been used in at least one of every sub-vehicle that Chevy has produced since the mid 1950s. We have the 350 and the rest of the famous Chevy engines in stock. Our used Chevrolet engines are all top quality. Buying used does not have to mean you will get ripped off. Buy engines on eBay if you want a "bad" deal. Buy our engines if you want the best.
There are several reasons that our engines are better than the majority of what is available on the Internet. The first and arguably the most important element is the price. We sell low. We sell low not to put other people out of business. We sell low because our customers appreciate the ability to actually save money on a used engine. If you have ordered engines before, you know that quality is something that can vary depending on the company that sells to you. Some engines arrive in bad shape, too late or are nowhere close to as described. Our engines are nothing but high quality.
Chevrolet Engines Tested and Approved by Experts
Additional things that make our engines superior include our selection process. We are intrigued by a great deal, but we are always cautious when we buy from a new distributor. We develop relationships through trust and honesty with engine distributors around the world. When we get a call that we are able to buy a trailer full of Chevrolet engines for sale, we put our team members into action to check out what is available. Every engine must live up to our standards and the standards for Chevy or we don't buy it. We expect low mileage engines that are not rusted out and are worthy for our customers to buy. We have been successful procuring engines with this criteria.
Our inventory is the largest online and has been said to be the largest in America. We employ an honest and hardworking staff of engine mechanics that hand test each engine. This means that they are inspected by specialists that know how to evaluate the condition and quality of a used engine. Every engine is tested with our dyno computer to measure oil pressure, mileage and other factors that you would want to know about before you buy our used Chevrolet engines. A low price, tested by experts and fast shipping is what you get.
Get Used Chevrolet Engines Quotes Fast
You are put right through to a professional when you call 888-284-3591 . We give out quotes over the phone very quickly. We know you want to know our price before you order. If you want your quote emailed, just type your information in our Chevrolet quote form and you get our price fast. Apart from our price, ordering our engines is fast and easy. We ship very quickly. Call us before you call those other guys.