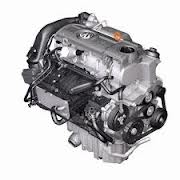 Geo Prizm was a compact automobile that was marketed around the world in part by General Motors. The Toyota partnership that GM developed in the mid 1980s is what lead to the creation of the Prizm. Most of these vehicles were redesigns of the Corolla and had many of the Toyota features that buyers wanted. The Prizm was the longest produced automobile in any of the Geo partnerships. We have these used Geo Prizm engines on sale and ready to ship fast. This means no more spending your time trying to calculate the best deal or how much shipping will be. We ship for free.
There were two main engines that the Prizm used. The first was the standard 1.6L. This was the standard Toyota engine that was most often used in the Corolla and in some Celica models. It offered just under 100 horsepower and already had a reputation of quality. The second engine was the larger 1.8L. This offered above 150 horsepower and was the dual overhead cam version of the 1.6L. Toyota is one of the most respected and experienced engine builders in the world. Our quality standards are just as high as Toyota and we don't settle for engines in our warehouse that are not 100 percent excellent.
Used Geo Prizm Engines
You might own a later version of a Prizm that was sold as a Chevrolet. These are rebadged versions of the Geo. These too have the 1.8L engine offerings. The engines are interchangeable. Now that you know more about your Prizm, we can tell you just how we go by obtaining our engine inventory. The used engines that our team purchases come from people we trust. These are most often wholesalers and distributors to the automotive industry. We import engines directly from Toyota and sell them to car mechanics, junkyards and other people that search for engines above eBay quality online. Our company is professional and serves thousands of customers in the U.S.
You never have to have second thoughts about buying used Geo engines here. Because we include a warranty, your purchase is covered during the warranty period. Anything that should happen to fail or become defective can be replaced. Our expert team here handles all engines exceptionally well. The same goes for our shipping staff that send out thousands of engines each year. What we do is process every used engine order immediately when it comes into our company. Doing this we are able to shave off several days off the transit time. This makes customers doing Geo Prizm engine swaps or replacements very happy.
Used Geo Prizm Engines Price Quotes
Calling our toll free quote line at 888-284-3591 will put you in touch with our specialists. This is not a sales line. We know that you are probably calling to get information or review or lowest price. It's normal. If you want a quote from our website, use the quotation form that we provide. It's a super fast way to get what you need without having to call first. Let us be your used engine dealer online.