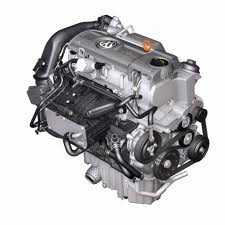 Geo Tracker was built as a collaboration between General Motors and Suzuki. These two powerhouse automotive companies put their technologies together to produce a U.S. based vehicle. The original Tracker had a small 1.6L Suzuki engine. It received rave reviews for its fuel economy and was powered just under 100 horsepower. The Geo Tracker was also rebranded as a Chevy Tracker in later years. There were 3 popular engines that were used. These were the 1.6L, 2.0L and 2.4L. These are the used Geo Tracker engines that are now in stock and ready for fast shipment here at www.usedengines.co.
Geo was more than a partnership between GM and Suzuki. Other automakers joined in and created the Prizm, Metro, Spectrum and Storm. The huge partnership worked out with the Tracker getting the bulk of the worldwide sales. Both U.S. and Canadian sales were strong. Our buyers live in all parts of the country and we ship each used engine by expert freight carrier. Since we give prices lower than most sellers, we are able to build up our Geo used engines inventory to levels that make our customers happy. You don't need a business license to order from us. All you need is the motivation to get engines in great selling condition.
Used Geo Tracker Engines
A warranty always is one element that is brought up in a used engine conversation. It is so important because of the wear and tear that could be on the motor. The person or company that owns an engine can make or break the value for another buyer. We take engine selling to heart here. We have an entire staff that does nothing but buy and evaluate Geo engines. The entire GM inventory that we carry has went through this round of evaluations. There is nothing that you can find put on our website for sale that does not come with warranty coverage. It is important for us to know that each and every customer is protected.
What do you get with our cheap price? You get plenty. You don't have to believe what we claim. You can do your own research. You will find we have no negatives written about us anywhere. We are honest people that work hard. Some of the cleanest and well maintained engines are now in our inventory that you will ever find. We know the importance of a good quality engine. Our staff personally ensures that every order is processed smoothly. There is no waiting period. Engines are shipped instantly and this cuts out any type of delay that you could experience with a different seller.
Used Geo Tracker Engines Price Quote
A quote form is a powerful thing and that's why we use it. All of our engine inventory is programmed in the database that we link with the quote form. It has the most updated prices for the used Geo engines we sell. Use the form right now. You can use it 24/7/365. You can always call 888-284-3591. We're Geo engine experts and will get you the used engine you desperately want to find.